"Building our future sector by sector" was the focus of the Unity and Growth Conference in San Diego last month. It put special emphasis on the training of IAM Officers, staff, activists and other leaders to organize new members from all sectors, with the goal of building a stronger and more diverse union.
In the words of the IAM Resident General Vice President Brian Bryant in his welcoming address, "Our diversity is our strength and we must welcome working people from all backgrounds into our union. We are going to ride this momentum into a new era for the IAM, an era of prosperity, unity, and growth."
The conference also had a diverse list of speakers, including:
IAM General Secretary-Treasurer Dora Cervantes
IAM Western Territory General Vice President Gary R. Allen
IAM Eastern Territory General Vice President David Sullivan
IAM Women's & Human Rights Director Julie Frietchen
IAM Organizing Director Vinny Addeo
Former Member of the White House Task Force on Worker Organizing and Empowerment, DOL, Lynn Rhinehart
California Labor Federation Executive Secretary-Treasurer Lorena Gonzalez Fletcher
National Mediation Board Chair Deirdre Hamilton
National Labor Relations Board Associate General Counsel Jessica Rutter
IAM Canadian Grand Lodge Representative Scott Jackson
Federal Labor Relations Authority Member Susan Tsui Grudmann
The Purpose Institute Co-Founder Haley Rushing
Ohio State University Nurses Organization President Rick Lucas
IAM Organizing Special Representative Ali Rhodes
IAM Organizing Grand Lodge Representative Juan Eldridge
NFFE-IAM Business Representative/Organizer Jerry McCarty
IAM Air Transport Coordinator James Carlson
IAM District 142 Organizer Dee Colbert
Guide Dogs of America | Tender Loving Canines President Russ Gitltlen
Union Plus Union Service Representative Keith Anderko
IAM Resident General Vice President Brian Bryant giving his welcome address.
CANADIAN DELEGATES AT THE CONFERENCE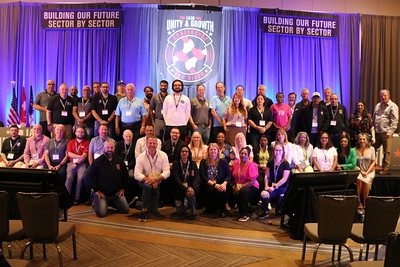 SOME PICTURES OF THE CONFERENCE…
From left to Right, President of LL1231 Merry St. Bernard, Peel Steward Melissa McRonney-Apaw, Communicator Sabiha Khan, Recording Secretary Marcia Stone on Day 4 of the conference.
LL1231 Delegates with DBR Kim Valliere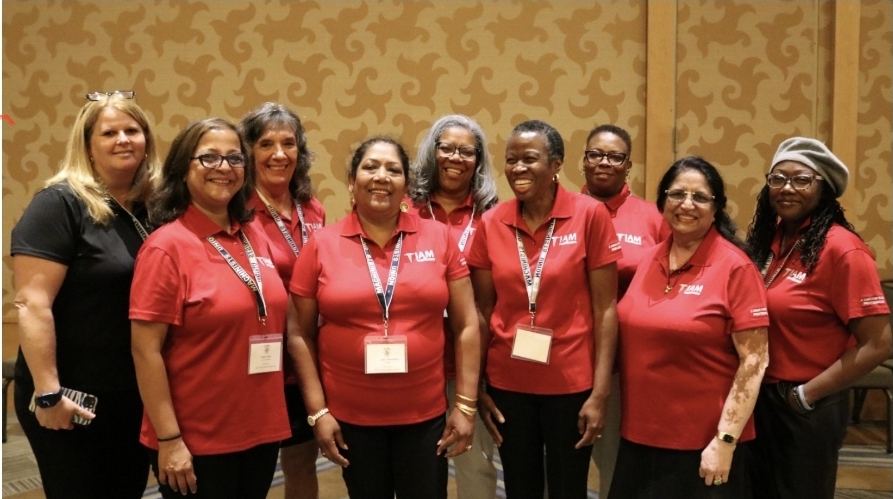 LL1231 DELEGATES WITH CANADIAN TERRITORY GVP DAVE CHATRAND
IVANA SOULA GAVE A RIVETING, INFORMATIVE PRESENTATION ON THE IMPACT OF AI ON THE WORK FORCE
LL1231 COMMUNICATOR SABIHA KHAN DOING THE INTRODUCTION FOR THE FIRST EVER HEALTH-CARE INDUSTRY PLAN OF THE IAMAW
CHIEF STEWARD OF PEEL MELISSA MCRONNEY-APAW PRESENTING THE FIRST EVER HEALTH-CARE INDUSTRY PLAN TO THE DELEGATES
The IAM Unity and Growth Conference had a host of inspiring and motivational speakers with groundbreaking ideas. It concluded with delegates compiling and delivering strategic organizing sector reports, that were brain-stormed in breakout discussions throughout the week.
The IAM Executive Council made major announcements about the union's future and leadership changes.
IAM International President Robert Martinez Jr., announced his upcoming retirement and named his successor, IAM Resident General Vice President Brian Bryant, effective Jan. 1, 2024.
The retirements of IAM Southern Territory General Vice President Rickey Wallace and IAM Midwest Territory General Vice President Steve Galloway were also announced with their successors: IAM Southern Territory Chief of Staff Craig Martin and IAM Midwest Territory Special Assistant Sam Cincinelli.
Longtime aerospace negotiator and leader Jody Bennett will become IAM Resident General Vice President, effective Jan. 1.
In conclusion I would like to share the experiences of LL1231 delegates that attended the conference:
Secretary Treasurer Liza Thambaiah, says it succinctly, "The Unity and Growth conference main objective was on organizing using robust, strategic and innovative methods to increase membership density in the IAM union with focus on sector specific industries."
She goes on to say that IAM's new International President Brian Bryant reminded the delegates about the win of Apple workers and the relentless fight to unionize Delta airline ramp workers. Also he spoke of the disaster relief efforts and the aid given to the people of Maui.
She elaborated on the sector focus groups that were formed each day to delve into new ideas. This was done, using the information given to us by the inspirational speakers each day, to formulate a plan on increasing membership in the healthcare sector in the US and Canadian regions. She says, " We had two facilitators from LL1231 to assist us with the process, Sabiha Khan and Melissa McRonney who both did a remarkable job presenting the first ever Health care Industry plan."
Lystra Mohammed Trustee said in her report :
I was very fortunate to be one of the delegates that attended the Unity and Growth Conference in San Diego. The slogan "Building our future Sector by Sector says a lot." "Our core purpose is to inspire and empower our members to make life better and create a world with security, dignity and opportunity for all" It truly speaks about the union and what I as a Trustee stands for. I am proud to be a part of the IAM Union as a member. It was a bitter sweet conference. The International President Robert Martinez Jr, announced his retirement and named his successor Brian Bryant. I look forward to see the future growth of the union.
When the IAM organizing director Vinny Addeo addressed the panel discussion, it was very powerful in it's impact. I especially enjoyed the discussion and hearing everyone's views and it was a great learning experience for me.
The breakout room discussions were educational and informative. Hearing everyone come together with strategies and tackling problems, finding the best solutions to bring forward and put together, was absolutely amazing.
Hearing about the Union busters and what we can do to expose them, was very knowledgeable to me.
In the end I was very proud to be part of the Healthcare Sector and hearing our very own Sabiha Khan and Melissa McRonney-apaw speak in front of the Podium with such confidence and knowledge made me a proud member of LL 1231
Rai Sagar, chief Steward of York says in her report that, " members want to know about why they pay dues to the union and what their dues go towards." She says, "I have a comprehensive idea now that their dues goes towards. training, education, various funds and activities which help to give a better quality of work life to our members." She would like to thank all those who participated to make the event a great success.
Melissa McRonney Peel Steward said, "Attending the Machinists Union conference was very informative. As a personal support worker at Spectrum I am proud to be a member of the IAM. Learning that there is a union that is willing to go over and above to protect the rights of a worker. They are also building leaders to help center diversity in organizing campaigns." The big take away for her was the anti-union campaigns which try to brainwash members by saying that you're being selfish and not caring for your patients. She says, "the fact is we are putting our patients first by allowing the union to take care of our safety, so we can focus on our patients."
Linda Stewart Trustee says, " This was my first convention experience and I truly enjoyed the spirited speakers and panels discussing various aspects of growing our diverse union. I was also educated in the many and various obstacles that may occur during the organizing process. The final breakout session assisted members in producing a prudent organizing plan specifically related to the healthcare sector. " She concludes that it was a pleasure meeting members from other union sectors as well as reconnecting with members that she had met in her Leadership 1 training.
Marcia Stone Recording Secretary, had this to say, " I had an awesome week at the IAM Unity and Growth conference in San Diego. This session was very educational especially in the field of Organizing. I have learned about Strategic Resources, Communication Strategy Development and the other resources that are available. I will take back this information and try to inspire and empower our members to the best of my ability. OUR CORE PURPOSE IS TO INSPIRE AND EMPOWER OUR MEMBERS TO MAKE OUR LIFE BETTER AND CREATE A WORLD WITH SECURITY, DIGNITY AND OPPORTUNITY FOR ALL."
And last but not the least our LL1231 President Merry St Bernard put it all in focus with her words, " Our core purpose and vision in the UNITY AND GROWTH CONFERENCE was to create a better future for our members, seeing workers winning in the battle against greedy corporations, solidarity, and having a voice that is heard, respected and acknowledged, thus bringing about change and empowerment. In our Healthcare Unity and Growth workshop we talked about what we can do differently and what the IAM can do to communicate, to value members more effectively beyond the contract and grievances by looking beyond the normal and thinking outside the box. I was proud of my two colleagues Sabiha Khan and Melissa McRonney-Apaw, who at the end of the conference did a presentation on behalf of the Healthcare sector on the first ever Health-care industry plan and what we will be doing going forward."